Fishing tips for beginners help those that are new to the world of angling. People who want more knowledge on the vast array of tackle now available in the market.
Carefully consider your specific requirements before you buy any fishing equipment. It will save much frustration, disappointment and money in the long run.
The set-up that you use is important so here is some basic advice of the separate items which will go to make up your fishing outfit.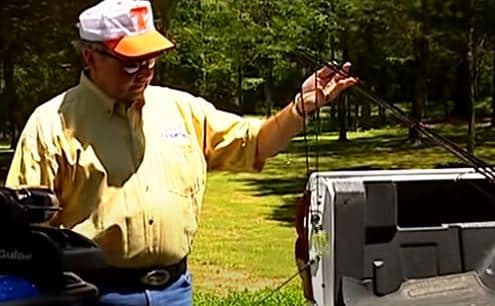 Equipment basics we cover briefly in this article are hook and line. The sister article to this one is the one which provides rod and reel advice for those starting out.
Fishing Tips for Beginners – Tip 1: Hooks
First in our list of fishing tips for beginners is hooks.
These need to be small enough to fit easily into the mouth of the particular fish you are after.
Remember, you can still catch a large fish with a small hook but not so easily a small fish with a large hook.
Therefore get a size a little smaller than that which would be ideal for the fish you are hoping to catch.
No matter what size the hook you choose is it must be made of spring steel wire with a sharp point and barb. The eye should be closed properly so that the line cannot slip out no matter which way it is pulled.
Tip 2: Fishing Line
Next is your fishing line. Which is the connection between the angler and the fish.
It needs to be strong enough to take the strain of casting the bait and for playing fish of the size you are expecting to catch.
As a rough guide for beginning, start with 2.7kg breaking strain nylon for fish ranging from 1-4kg's in freshwater dams and rivers. And 4.5kg breaking strain nylon for very large carp, barbel, trout and other fish.
This is if you don't have to lift the fish from the water by the line. In which case you will need a line of much higher breaking strain.
This advice is, as we said above, part of a two part article. The sister article with fishing tips on rods and reels can be found here.
Carp Fishing Tips and Advice
South Africa is home to a large carp fishing population. Many of whom are looking for tips and advice on what kind of tackle and baits to use. As well as techniques that help in catching these beautiful fish.
This species is found in dams and rivers nationwide. And generally there are two types, the common carp and the mirror carp.
Many types of baits are used to catch them. And although a lot of fishermen and women use various boilie methods, they can and are often caught on simple baits. Such as sweetcorn.
A key to catching carp using simple baits is to use a good groundbait with a cage rig set-up.
Other good carp fishing tips for catching them in South Africa includes what kind of rigs to use.
Carp Fishing Tips for Beginners
If you are a beginner and not too sure how to tie hooks, swivels and sinkers etc. Visit your local tackle shop for professional assistance on how to tie a good hook knot.
Most tackle shops will sell ready made rigs complete with cage, swivels and hooks. Neatly tied and ready to go.
The cage is for your groundbait. Buy the largest you can on a ready made rig and preferably go for rigs that have been made up with braid. Instead of ordinary fishing line. The braid seems to hold better in our experience. We have lost many hooks to big carp on ordinary line than we have with the braid.
Many rivers and dams around the country are fished for catching various sized carp. And although the best times to catch are early morning and during the evenings, we have caught some of our biggest during times such as 2-o'clock in the afternoon!
In rivers, look for areas where the water is not running very fast and areas of shade beneath trees or beside island banks.
Although carp do not generally put up as much of a fight as the aggressive bass, they do grow very large. Therefore you will need a decent strength breaking strain line to land them. As well as a good landing net.
Again, speak to your local tackle shop if you are unsure. Most assistants working there are passionate fishermen and women. They will be able to also give you some local knowledge. And tips or advice for carp fishing in the immediate area you are going to fish.
In conclusion
The best fishing tips for South Africans who are new to the sport are still on offer at local tackle shops.
Whether it's fishing rods, reels, tackle or advice on local fishing spots. Your local shop will offer some great beginners tips for fishing in South Africa.